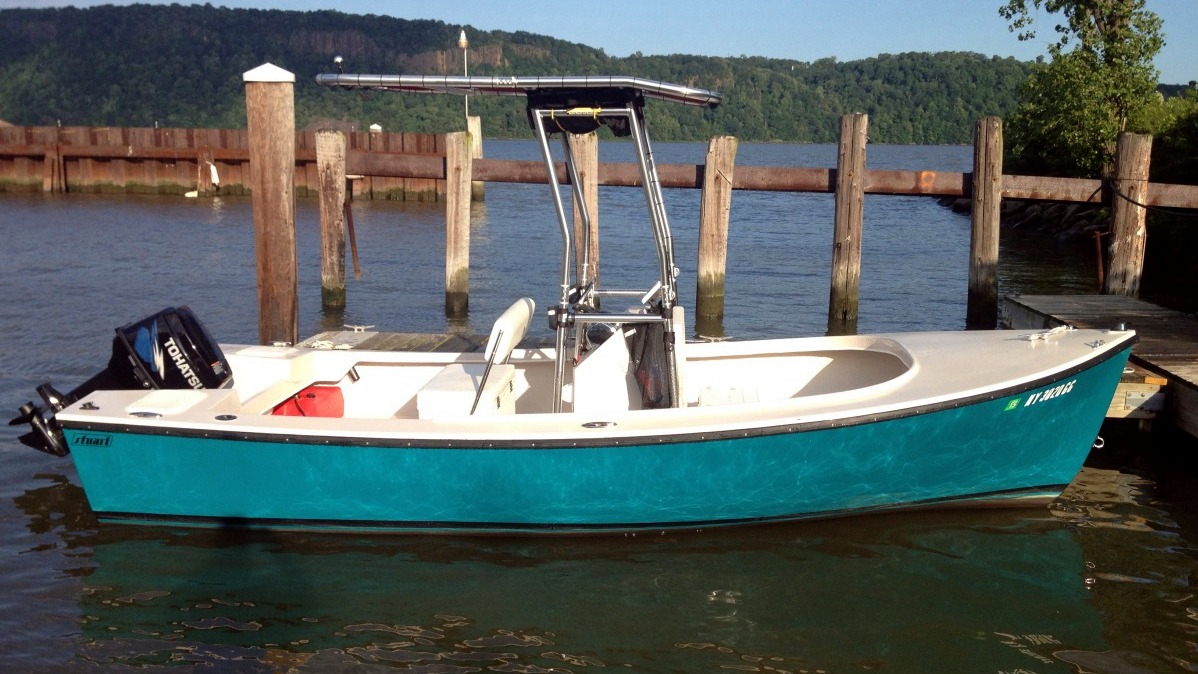 New STUART 19 POWERBOATS - Center & Side Console models
Stuart 19 Powerboat
Our semi-displacement Maine workboat hull is engineered to be powered comfortably by a fuel efficient 40 horsepower outboard motor. The traditional Downeast hull is sea proven with high freeboard, lowered center of gravity, shallow keel, strong sheer line, and easy running ride.
The Stuart 19 powerboat rewards her owners with the exceptional stability, buoyancy, and dryness demanded by both experienced commercial and recreational boaters when working the legendary rough and cold waters of Coastal New England.
Stuart Marine Corp. hand builds the unsinkable Stuart 19 semi-displacement hull with positive foam flotation below deck, and a quick draining work surface above deck. Her interior accommodations are individually designed and finished for a variety of commercial and recreational activities including yacht club launch services, island freighting, fresh and salt water fishing, day cruising, and overnight camping.
The Stuart 19 powerboat is readily noticed and respected for her maritime qualities; and further complimented by the hundreds of sailboats and dinghies also crafted by Stuart Marine Corp. during the past thirty-five years.
With our Maine boat manufacturing reputation firmly established, we are proud to offer and build the Stuart 19 powerboat for you, too.
Stuart 19
Overall Length
Waterline Length
Maximum Beam
Transom Beam
Draft
Freeboard Forward
Freeboard Aft
Cruising HP
Maximum HP
Weight Complete
USCG Capacities
Persons / Gear
Persons / Pounds
Year Introduced
List Price
Center Console
18' 5"
16'10"
7' 3"
6' 7"
11"
3' 0"
1' 11"
40
125
1325
1750
6 / 1200
2002
$18,700
Side Console
18' 5"
16'10"
7' 3"
6' 7"
11"
3' 0"
1' 11"
40
125
1325
1750
6 / 1200
2018
$12,900
All Prices & Specifications FOB Rockland, Maine; and Subject to Change Without Notice
Stuart 19 Standard Equipment
Standard Equipment
Convenience Group
2 Year Warranty

All Hardware Non-corrosive

Rot-resistant Composite Construction

Vinyl Gunwale Guard

Steering Kit

Bottom Painting
Dress Group
Safety Group
Non-skid Deck

Unsinkable Positive Foam Flotation

Self-bailing Cockpit

Quality Hand Laminated Fiberglass

Strong Double Hull Construction

Stabilizing Molded Keel

Through-bolted Bow Eye